Happy Friday! Summer has officially began and it has been a long week. I have been shopping with my mother, attending basketball and baseball games, and meeting up with friends for Happy Hour. Happy the weekend is here!
On Wednesday night, I posted a blog- All About Me Part 2. In this blog, I mentioned my favorite books that I have read. So for Flirtation Friday, I figured I would post a book from that list.
Flirtation Friday pick- Gabriel's Inferno by Sylvain Reynard.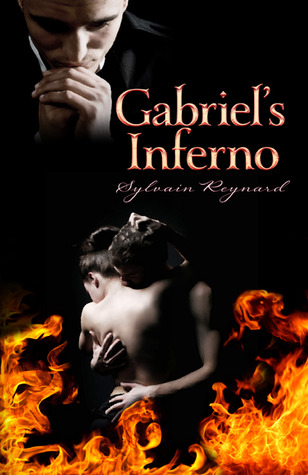 (Picture found on Goodreads- great place to search for books)
Back in 2012, my mother bought me the NOOK HD+ for Christmas/Graduation present. It was the best present I have ever received in a very long time and I just couldn't wait to use it. I just started to read again (after Twilight series), and had no clue on what I should read next. I met up with my good friend Jackie for drinks one cold night and she told me to read Gabriel's Inferno.. As soon as I was home, I downloaded it on my NOOK HD+ and I was hooked. I stayed up almost all night reading this book. And remind you, the NOOK HD+ is not light. I think I ended up with a broken lip for it falling on my face because I was starting to fall asleep. Anyways, let's just say I finished that book and fell in love with my NOOK! Then I immediately downloaded the second book called Gabriel's Rapture. That Christmas break was so relaxing and expensive. I ended up buying so many books! It was all worth it in the end because look where I am now… I write blogs on books! Thank you Jackie for suggesting that book to me years ago. And thank you to my mom for buying me that amazing but heavy NOOK.
Now on to the book… Gabriel Emerson is a professor of Dante studies at the University of Toronto. Julianne Mitchell is his graduate student. They have met in the past but Gabriel lived a troubled life filled with secrets and does not remember Julianne. She of course knows him and their connection is strong. They began to have a passionate affair but soon trouble finds them.
There are so many dark secrets hidden between them. Will they survive the secrets? Will they survive hiding their relationship from the University? Will they survive not being together? Most importantly, will they find true love?  For you to find out you must read this book.
I hope you love this book as much as I did. It is and will always be one of my favorite books to read. Which brings me to this… Do you ever re-read your favorite books? Or do you re-read a book just to freshen up for the second book in the series? I tend to do this when a new book is coming out in the series or when nothing else out there is catching my eye, then I re-read a favorite.
Have a wonderful weekend! And remember to message me if you would like to suggest a book for my weekend. I would love to read it and then use your suggestion for a Flirtation Friday in the near future.
Always,
Kait