Happy Tuesday! So weird saying Tuesday. I skipped writing yesterday because I wanted to sit and do absolutely nothing. Well that's a lie. I did go to Michael's craft store to pick up mason jars for the wedding. But it was so hot. After, we came home and watched Vampire Diaries all day. We are now on Season 6. And I cried at the end of Season 5. Love me some Damon!
I ordered some books this weekend which was nice because I feel like I am slacking. Trying to get back into the groove of school and part-time job plus this blog, I haven't spent time researching on new books. It was nice to take time out this weekend to look. I ordered my Junior Book Club book- Geekerella by Ashley Poston and started that last night. It is so cute so far. Excited to talk about it at the party in a month.
Believe it or not, I am still reading by Controversial Princess Jodi Ellen Malpas. I am into it but don't look forward to reading it. Not sure what that means. Has anyone else ever have this problem? It's a great book but I don't go home and start reading it. However, my friend recommended a new book to me on Saturday morning and I finished it in a day. Thank you Warner!!
Not So Nice Guy by R.S. Grey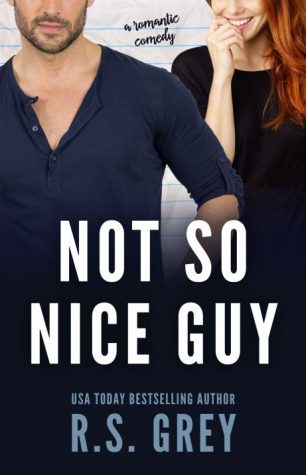 (Picture by Goodreads)
Synopsis:
"Oh my god. Who is that?"
I get asked this question a lot.
"Oh him?" I reply. "That's just Ian."
Just Ian is the biggest understatement of the century. Just the Mona Lisa. Just the Taj Mahal. Just Ian, with his boring ol' washboard abs and dime-a-dozen dimpled smile.
Just Ian is…just my best friend.
We're extremely close, stuck so deep inside a Jim-and-Pam-style friendzone everyone at work assumes we're a couple—that is until one day, word spreads through the teacher's lounge that he's single. Fair game. Suddenly, it's open season on Ian.
He should be reveling in all the newfound attention, but to our mutual surprise, the only attention he seems to want is mine. 
He's turning our formerly innocent nightly chats into X-rated phone calls. Our playful banter sports a new, dangerous edge. 
I want to assume he's playing a prank on me, just pushing my buttons like always—but when Ian lifts me onto the desk in my classroom and slides his hands up my skirt, he doesn't leave a lot of room for confusion. 
I'm a little scared of things going south, of losing my best friend because I can't keep my hands to myself. So, I'm just going to back away and not return this earth-shattering kiss—oh who am I kidding?!
Goodbye Ian, ol' buddy, ol' pal!
Helloooo mister not so nice guy.
(By Amazon)
This book was so cute. Throughout the whole book, I didn't know what to expect. I definitely thought something crazy or twist was going to happen. And that is a good thing. Keeping readers on their toes is what keeps us reading.
Maybe I just answered my own question from above. Maybe I know or expect what is going to happen in Controversial Princess  that is why I am not looking forward to it. But I am half way done and hopefully will finish it by this weekend. This book has taken me so far a few weeks to read and that never happens.
I hope everyone has a good rest of the week. Expect a blog from me either tomorrow or Thursday. However, I might combine my two blogs together so the blog might come on Friday. Not sure yet!
Always,
Kait