What a Monday!! Not only did I not sleep well last night, but I also thought that I might have a tick bite. Then I went to work this morning and spilled coffee all over my shirt. Yes!! It was that bad. And no, I don't have a tick bite. How was everyone else's Monday?
So readers.. I have finished two AMAZING books in the past week.
Crew by Tijan
Block Shot by Kennedy Ryan
(Picture by Goodreads)
Let's start with Crew by Tijan. The ending was GREAT! However, it felt like FOREVER for me to get there. I felt like I was reading the same thing over and over again. Yes, the main character is part of a crew (only girl in the crew). Everyone looks at the Crew as bad students. They are not technically bad students, but some how trouble finds them. In the end, they finally did something good. (I know this sounds confusing…) To me, the main character felt trapped being in the crew. She wanted to be good and do good things but always had her crews back. No matter what! She started to have feelings for another crew member and that is against the rules. So while reading this, in my mind I figured the ending was going to be about her getting out of the crew or her crew turning their back on her. I was completely wrong. However, I still enjoyed the ending.
A month or two ago, I read Ryan's Bed by Tijan and she left me completely speechless at the end. I will say I expected the same thing with this book and that didn't happen. If I had to rate this book then I would give it 3 out of 5 stars.. ONLY because I was expecting a different ending and because it felt like a lifetime to get the point across in the book.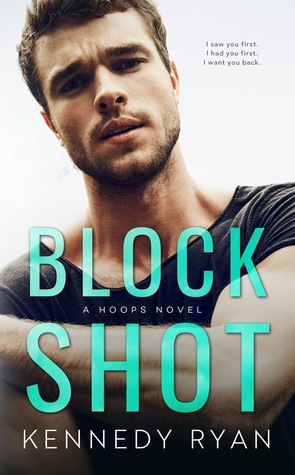 (Picture by GoodReads)
I finished up Block Shot by Kennedy Ryan last night. I started it on Saturday and stayed in bed almost all day on Sunday finishing it. I loved Banner!! I loved how Banner is such a strong woman and also followed her heart. Even if that means, hurting someone in the end. I felt like I could relate to Banner… and that makes me love this book even more. How HOT is Jared??? And I pictured Jared from the cover the whole time so good job on the cover! I knew Kennedy Ryan wouldn't disappoint in this book. She kept me on my toes the whole time during Long Shot so I knew she would blow this one out of the water. Alright, Kennedy… When is the next book coming out?
I don't want to go in full description of this book because I want you going in not knowing what will happen. That's what I did for Long Shot and Block Shot. Kennedy Ryan will never leave you upset or disappointed. She is a GREAT writer. Read Long Shot and then Block Shot. Both will leave you happy and stunned. Trust me!
Well readers, it is time for me to go and relax. It was a stinky, rainy Monday!
Remember, I will write on Thursday this week 🙂
Always,
Kait