Come on! Who doesn't say May and immediately think of Justin Timberlake? I know it's such an old meme but it still gets me every time.
Quick little update with me. I FINALLY finished Checkmate: This is War and This is Love by Kennedy Fox. I felt like I read this book for the past month because of us moving. However, I was finally able to finish it.
My thoughts are the same when it comes to Kennedy Fox. They ROCK! I fall in the love with the characters and the story line every time. And when I feel like I need an easy read then I go straight to Kennedy Fox. I usually laugh my butt off and sometimes cry in the end. But then again, that is Kennedy Fox for you.
Checkmate: This is War 
Checkmate: This is Love
I wonder what my next Kennedy Fox read should be! Do you have any Kennedy Fox book recommendations?
May Releases 
Pretty Things by Devon McCormick 5/2
Birth of a Baby Daddy by Piper Rayne 5/2
Bad Saint by Monica James 5/6
**Things We Never Said by Samantha Young 5/7
Code Name: Genesis by Sawyer Bennett 5/7
**Dance With Me by Kristen Proby 5/7
That Second Chance by Meghan Quinn 5/7
Better Than Me by Kimberly Kincaid 5/7
**Beautifully Ever After by Georgia Cates 5/7
The Bride Test by Helen Hoang 5/7
Hot to the Touch by Jaci Burton 5/7
Then He Happened by Claudia Burgoa 5/8
Corrupt Savior by Tara Leigh 5/13
The Honeymooners by Christina Lauren 5/14
**Concerto by Skye Warren 5/14
My Ex-Best Friend's Wedding by Wendy Wax 5/14
**Five Minute Life by Emma Scott 5/16
Both Of Us by Amber Kelly 5/20
**Twisted by Aleatha Romig 5/21
**Million Dollar Devil by Katy Evans 5/28
The Initiation by Nikki Sloane 5/28
** My Top Favorites
I am excited to read Beautifully Ever After by Georgia Cates. It is a duet book so I have to read Eighty-One Nights first.  I became a fan of hers a few years back when I read The Beauty Series: Beauty from Pain, Beauty from Surrender, Beauty from Love. 
Synopsis: Eighty-One Nights 
Beautiful, penniless American girl meets handsome, wealthy Scotsman.
Sounds like the beginning of a fairy-tale romance?
It's not.
This story begins with a contract. 
And an exchange of money.
A lot of money.
An angel perches nervously on one shoulder.
A devil lounges smugly on my other.
And even that dark little bastard is leery of what I'm doing.
Maxwell Hutcheson wants the girlfriend experience.
All of it.
And I'm going to give it to him.
I'm not supposed to enjoy being his whore.
I'm also not supposed to fall in love with him.
But I do. Both.
When our contract expires, I will walk away.
Because I have to.
But he'll always have a piece of me.
I'll mask my sorrow with a smile.
I'll hide my love with indifference
… all while it's killing me softly.
A fairy-tale romance.
It isn't mine to have.
And this man I've come to love so dearly isn't my happily ever after.
Synopsis: Beautifully Ever After 
Everything in my life has changed.
This woman, my paid companion, has turned my world upside down
… while making it right for the first time ever.
We were brought together by need.
Hers was money.
Mine was companionship. And sex.
Caitriona Louden gave me the girlfriend experience.
All of it.
And now she's gone.
I'm not supposed to miss her.
I'm not supposed to love her.
But I do. Both.
Our contract expired, and she walked away.
Now my world is falling apart without her in it.
Because she is my everything.
A fairy-tale romance.
It's ours to have.
And this woman I've come to love so dearly is my beautiful ever after. 
**New Author To Me**
I have never read anything by Monica James and am super excited for her release. Check out the synopsis below for Bad Saint.
Synopsis: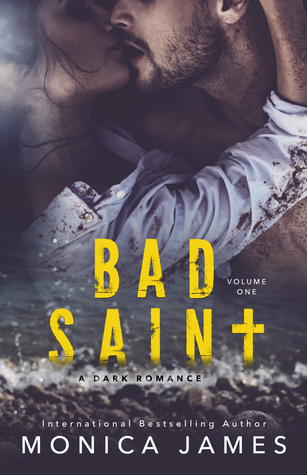 This cover is gorgeous!
I was kidnapped on my honeymoon by three masked men.
Blindfolded.
Bound.
Destination unknown.
I was told to stay silent and abide by their rules. But they didn't realize I wasn't a victim…not anymore.
The open sea was my backdrop for nine torturous days. During that time, glimmers of my fate were revealed by a man with the mysterious chartreuse-colored eyes. He should have scared me, but he didn't.
He intrigued me. And I intrigued him.
He punished me when I didn't listen, which was every single day. But beneath his cruelty, I sensed he was guarding a grave secret.
I was sold. 
And in a game of poker, no less. 
My buyer? A Russian mobster who likes to collect pretty things. Now that I know the truth, I only have one choice.
Sink or swim.
And when one fateful night presents me the opportunity, I take it. I just never anticipated my actions would leave me shipwrecked with my kidnapper.
He needs me alive. I want him dead.
But as days turn into weeks, one thing becomes clear—I should hate him…but I don't.
My name is Willow.
His name is Saint.
Ironic, isn't it? He bears a name that denotes nothing but holiness yet delivers nothing but hell. However, if this is hell on earth…God, save my soul.
WOW! This sounds amazing and need to get my hands on this immediately.
I will have another post for you on Friday for Flirtation Friday!
Always,
Kait